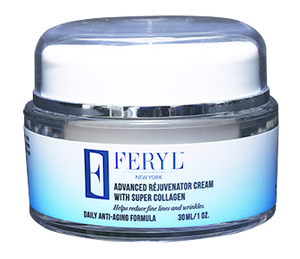 Helps improve your skin tone and appearance. Contains an exclusive blend of ingredients that hydrate and moisturize the skin, aiding in minimizing the appearance of fine lines and wrinkles.
Also, tremendously helps to reduce the dullness and considerably improve overall texture and complexion.
HIGHLIGHTS of FERYL NEW YORK Advanced Rejuvinator Serum and Cream with Super Collagen, Hyaluronic Acid and Retinol:
* All-in-One product that can be used day or night
* Smoothens Finelines (wrinkles) 
* Moisturizer

* UV Protection
* Neutral smell
* Non Greasy

* Works for all skin types and tones under all weather conditions

Here are some of the other KEY benefits reported by our customers.
* Diminish ACNE and Pimples scars
* Reduce Dark Circles under Eyes
* Reduce scarring

* Reduce discoloration
* Diminish Stretch Marks

* Brightens the skin
Note: Make sure to test under arm or under the thigh for an adverse reaction prior to use